How to Steam
As your drycleaner knows, steam is the gentlest, safest, most efficient method to remove wrinkles. Not only is steaming five times faster than ironing, it is guaranteed not to scorch even the most delicate materials and fabrics. Our steamers will remove wrinkles from clothing, drapery, tableclothes, virtually any fabric. Use the following information to help guide you to more proficient steaming.
How to Steam a Dress
How to Steam a Blouse
How to Steam Dress Pants
How to Steam a Jacket
How to Steam a Tie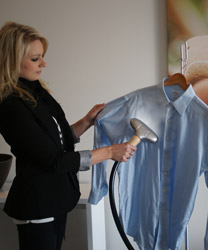 When steaming, touch the material lightly with steam head and wrinkles will instantly vanish. The combination of the steam and the steam head is important for a smooth finish. Do not directly touch velvet or silk with the steam head.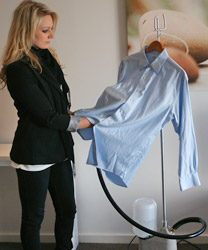 Some articles can be steamed better from the underside. This allows the steam to relax the fibers of the material, thus removing the wrinkles.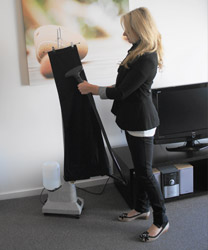 Pants may be easily steamed by hanging them by the cuff.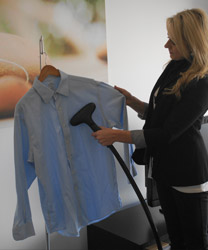 Always steam with hose in upright position so that collected condensation is free to flow back into the steamer. If steaming in a low position near floor, frequently straighten hose up and out to keep clear of condensation.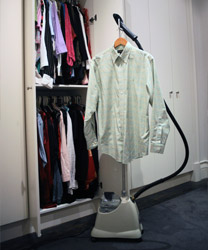 Jiffy Steamers are great for removing "closet crunch," and they eliminate most trips to the drycleaner.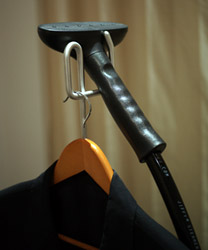 Convenient hanger/hook mechanism holds both clothes and steam head securely.